Bright & Beautiful Franchise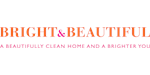 Bright & Beautiful - Domestic Cleaning Franchise
Build a business that gives you more time to enjoy the things you love!
Watch Video
Finance requirements

Minimum Investment:

£9,995

Areas Available

Opportunities are available throughout the UK.
Profile
Build Your Business FROM HOME! Earn Upwards of £80,000 per Year and Create the Lifestyle YOU have Always Wanted…
Join a Leading UK Franchise Opportunity for as little as £9,995+VAT!
Founded in 2009, Bright & Beautiful has quickly established itself as the domestic cleaning franchise opportunity not to be missed!
If you never thought you would start a domestic cleaning business, you may just change your mind when you hear about the support, work-life balance and earning potential associated with running a Bright & Beautiful business.
Bright & Beautiful at a glance:
Over 60 Franchise Owners Nationwide
800+ Professional Housekeepers fully employed by Bright & Beautiful Franchise Owners
An Eye-Catching Brand that Attracts Potential Clients
Run an Eco-Friendly Business Incorporating Green Practices
Full Training & Support Provided
Build Your Business from Home and Create the Work-Life Balance You have Always Wanted
100% Franchisee Funding Available (subject to status)
Our core VALUES, REPUTATION for quality, and over a decade of franchising EXPERIENCE means you will be in safe hands as you build your business from home alongside our franchise support team.
Lead Your Team. Be Your Own Boss!
How would it feel to wake up every morning being in control of your day-to-day schedule?
No commute, no office politics, no pointless meetings… Sound good?
Well, with Bright & Beautiful, any determined individual can make that dream a reality. Our franchise model is management based, meaning you will not be doing the cleaning yourself. Your role is to manage and motivate your team of Professional Housekeepers whilst driving the growth of your business.
This is your opportunity to create the working environment you have always wanted…
Most importantly, you are in control of your work schedule. You are in control of the growth of your business, and we welcome those with ambition! At last, you can make money for yourself and not someone else, with your earnings being respective to the hard work you put in. Top performing Franchisees can earn upwards of £80,000 in net profits per year.
In Business for Yourself but not By Yourself - Receive Comprehensive Training & Full Franchisee Support

You are the business owner. You set your schedule and you manage your team. But as a Bright & Beautiful franchisee there is one key advantage, you are NOT alone.
When you join Bright & Beautiful, you will be enrolled onto our 12-week Sure Start programme. This includes pre-launch training tasks, business planning and a 5-day new franchisee training course at the Bright & Beautiful head office. Here you will explore all aspects of your new business including the systems, software's and best practices that will ensure you launch successfully.
Our expert team is on hand to provide you with the support and knowledge base you need to grow and maintain your local operation. Bright & Beautiful offers support and advice in:
Recruitment
Management
Marketing
Sales
Operations
Besides you and your staff, there is another person at the heart of your franchise operation…your Franchise Business Coach. They will work alongside you, supporting you to grow your business, and training you on the tools and procedures that help you to make a success of your business. They conduct monthly business review calls and help you set achievable annual business goals. From the day you start your business you are never on your own!
However efficient we may be, of course, humans cannot do everything. Which is why your business is supported by a full web-based management system to help manage your client enquiries, recruitment, and staff. Once more, you will be given access to a comprehensive document library and the Bright & Beautiful Operations Manual, to ensure that you are always in the know – 24/7 and all year round.
Our community of Franchise Owners also offers peer-to-peer support every step of the way sharing their wisdom and experiences.
Our support delivery cannot be matched!
Any Determined Individual Can Start Their Own Business with Bright & Beautiful…
There are many driven, ambitious individuals that want to start their own business, however in a lot of cases, they either do not know where to start or do not have the funds to get started.
At Bright & Beautiful, we want to break down the barriers for any determined, self-motivated individual to take control of their future and start their own business.
We have the proven franchise model, systems and support structures but most importantly, we have government-backing funding partners which could provide you with 100% of your investment, without a deposit! (subject to status).
So, if you have always wanted to start your own business…
Why not take the first steps now?
Videos
03 March 2022

Bright & Beautiful provides professional cleaning services throughout the UK. Your local solution for all cleaning needs. Everything from freshly ironed laundry, right down to a tailored clean of your house, according to your specification.